News
---
2017-04-19 - We are thrilled to announce that we will appear at this year's edition of the Wave Gotik Treffen. The festival takes place between 2 and 5 June in Leipzig, Germany. Tickets available at http://www.wave-gotik-treffen.com. We hope to see you there!
---
2012-01-12 - The new, great looking YGGDRASIL Logo T-shirt is now available in the shop. There are, of course, CD's available there as well. Happy shopping!
---
2012-01-03 - Yggdrasil would like to thank all fans and media for a great 2011! Now we´re conquering 2012, first with Grand Folk-Metal Night in Copenhagen this Saturday and then with the North Winds over Europe 2012 Tour in February.
The Grand Folk-Metal Night together with Vanir (DK), Faanefjell (N), Huldre (DK) and Heidra (DK) will be the first folk-metal festival in the Öresund area and we hope all of you who are in the neighborhood will show up, show your support and then show off your new Yggdrasil-shirt! We will do our best to give you our best show to date!
North Winds over Europe 2012 will launch in mid-February and we´ll play with Trelleborg (RU), Vuohivasara (FI) and Woodscream (RU) and, occasionally, with more bands. To see all the dates, check out our Tour-section where all confirmed venues will be posted - several more will be added. Come support your local venue and we´ll be there to give you one hell of a show!
---
2011-07-30 - The Video Contest has been postponed! Due to technical errors in the e-mail address, entries have been thrown away by a spam filter we were not aware existed. This filter only saves mails for 24 hours and any entries we haven´t seen in there are gone. Since we´re off on vacation or otherwise occupied in August, we have to postpone the contest until September. All current entries will be automatically entered into the contest again when it opens. If you haven´t received an e-mail from us within a week, your entry is unfortunately caught by the spam filter and not entered into the contest. Please enter it again when the contest re-opens. Thank you and I´m sorry for the inconvenience. //Gustaf - Yggdrasil
---
2011-06-26 - Our new website is live! Have a look around, cast your vote on the albums and share the news with your friends, listen to some tracks in the music player or read the latest "Irrbloss"-reviews. And, of course, participate in our VIDEO CONTEST! There are some stuff up for discovery around the website so check it out and don´t forget to check back in a couple of days when Fan of the Week goes live.
---
---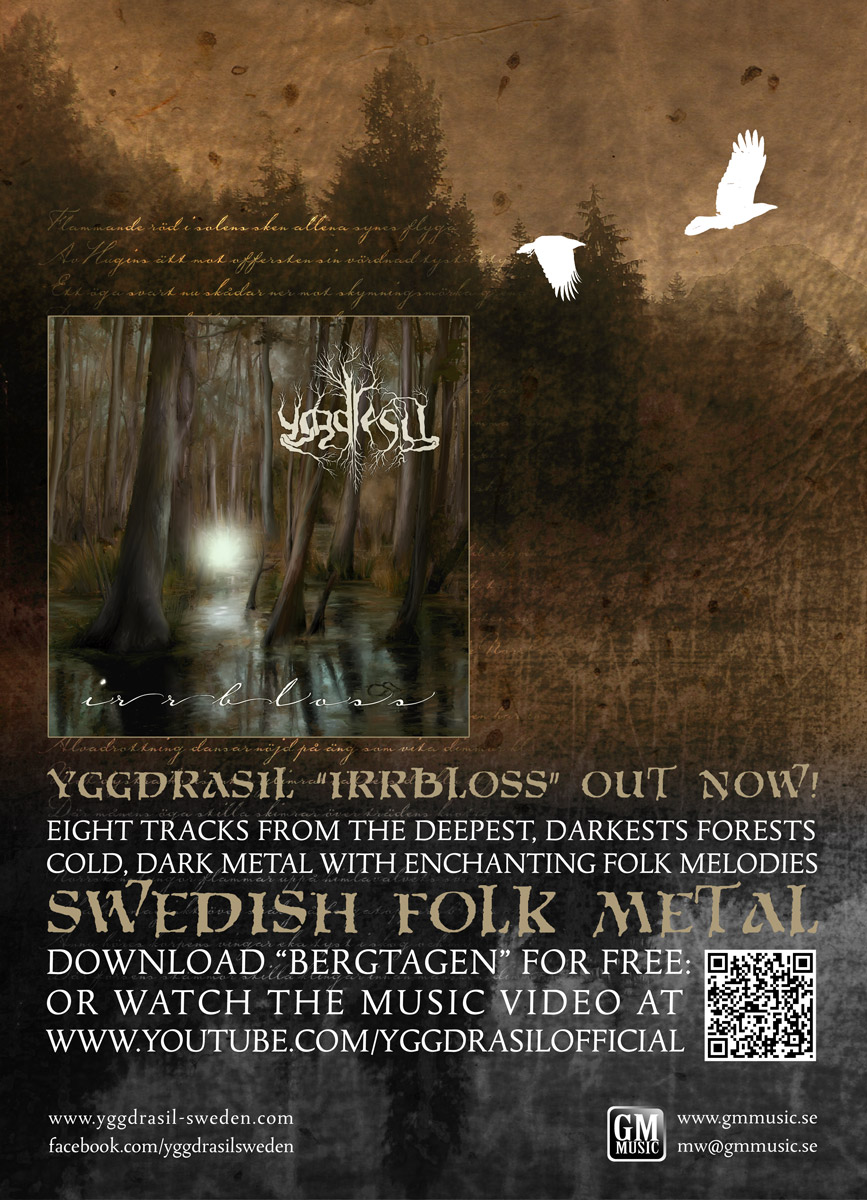 ---